2021 Farmers' Market season will end Saturday, October 30
October hours: Wednesdays and Saturdays, 9:00 am – 1:00 pm
Grand Rapids Farmers' Market thanks the Grand Rapids State Bank and bank president Noah Wilcox for support of the market.
---
Online ordering & pick-up is back for the 2021 season!
We have a new online system: Open Food Network. Give it a try!

Shop the GR Farmers' Market Open Food Network Store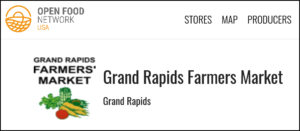 About the Market
Locally Grown fresh fruits & vegetables. Home raised meats, Eggs, Honey, Maple Syrup,Jams & Jellies, Fresh Baked Goods, & Canned Goods.
Produced by members within 50 miles of Grand Rapids, MN.
For information about joining the market in 2021 please click on the How to Join link. (Check our Facebook Page or News Page for details and more information on upcoming meetings.)
Located at 11 Golf Course Road, Grand Rapids, MN 55744, just off the corner of Hwy 169 and Golf Course Road next to the Grand Rapids State Bank branch.

The Market accepts SNAP/EBTcards, including P-EBT.
We will be offering Market Bucks and Mighty Matching Dollars contingent on funds availability.
The Market accepts Credit/Debit cards.
The Market will issue $2 Power of Produce cards to children age 2 to 12.
Help us spread the word about these programs at the market!
---
For the latest News and upcoming member meeting notices from the Market Click Here.
More information about Market rules and How to Join